Belgian Malinois Police Dogs for sale
We always have belgian malinois police dogs for sale for our customers. The malinois is an exceptional breed and often used as police dogs worldwide. At K10 Workingdogs B.V. we offer:
Green malinois dogs
Pretrained malinois
Fully trained malinois dogs
Contact us for prices and availability. We are able to deliver large quantities anywhere in the world ! Our K9 dogs are second to none and have excellent work drives. 
The Belgian Malinois is a shepherd dog, just like the German Shepherd and Dutch Shepherd dog. Their origin is from Mechelen in Belgium. Mechelen in English translated is "Malinois".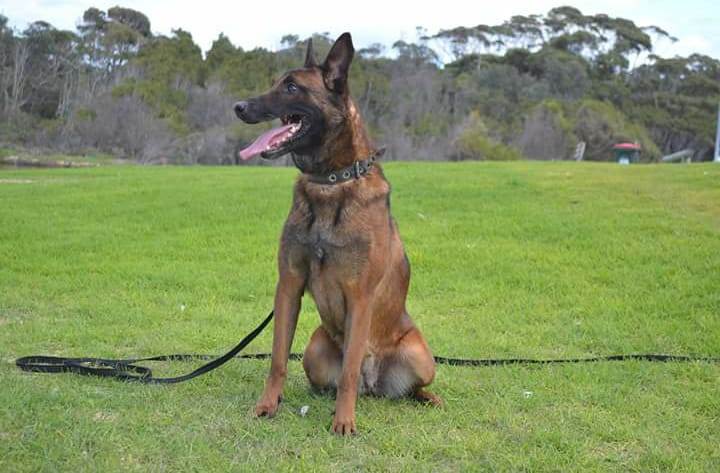 Belgian Malinois vs German Shepherd
A malinois shepherd and German shepherd dog do have a lot in common. They both serve as police or military dogs in many countries. Both have high working drives and are easily trainable as dual purpose or single purpose dogs. 
Differences
A Belgian Malinois in general is a little bit smaller than a German Shepherd. The weight of a Mali is also lighter. Therefore they are a little bit more fast than the German Shepherds. 
Also colorwise there are differences. A malinois dog is normally light brown or dark brown where GSD's have grey, black and tan or completely black colors. The fur coat of a malinois is also shorter than the fur coats of GSD's. 
Work
Both breeds are willing to work for the handler. They should be trained or entertained on a regular basis. Both breeds have lots of energy and can become perfect police dogs. 
Medical and shipment
All our Belgian Malinois police dogs come with an International passport. Our dogs are in between 8 and 24 months old and have all the necessary vaccinations. Before being shipped to our customers, a vet does the clinical check and approves the transport. 
On request we can provide x-rays of hips and elbows. 
K10 Working Dogs can assist you with shipping the Malinois dogs anywhere in the world. We have excellent contacts with shipping companies in Holland and Belgium.
Selection procedure
We would like to invite you and your guests to our facility in Holland and hand select the dogs you are interested in. We will assist you (and your group) with hotel accomodations and transport to and from your hotel.
Interested ?
Please feel free to contact us anytime ! We will gladly answer all your questions !