Airport Detection Dogs
An airport detection dog is a single purpose working dog used in airports by police or customs is usually trained to smell contraband like drugs or tobacco. Nowadays dogs are also trained to find explosives or in some cases money !
Airport sniffer dogs are used more and more to secure airports worldwide to search and inspect luggage of passengers.
So be aware if you travel and that you do not run into a sniffer dog at the airport.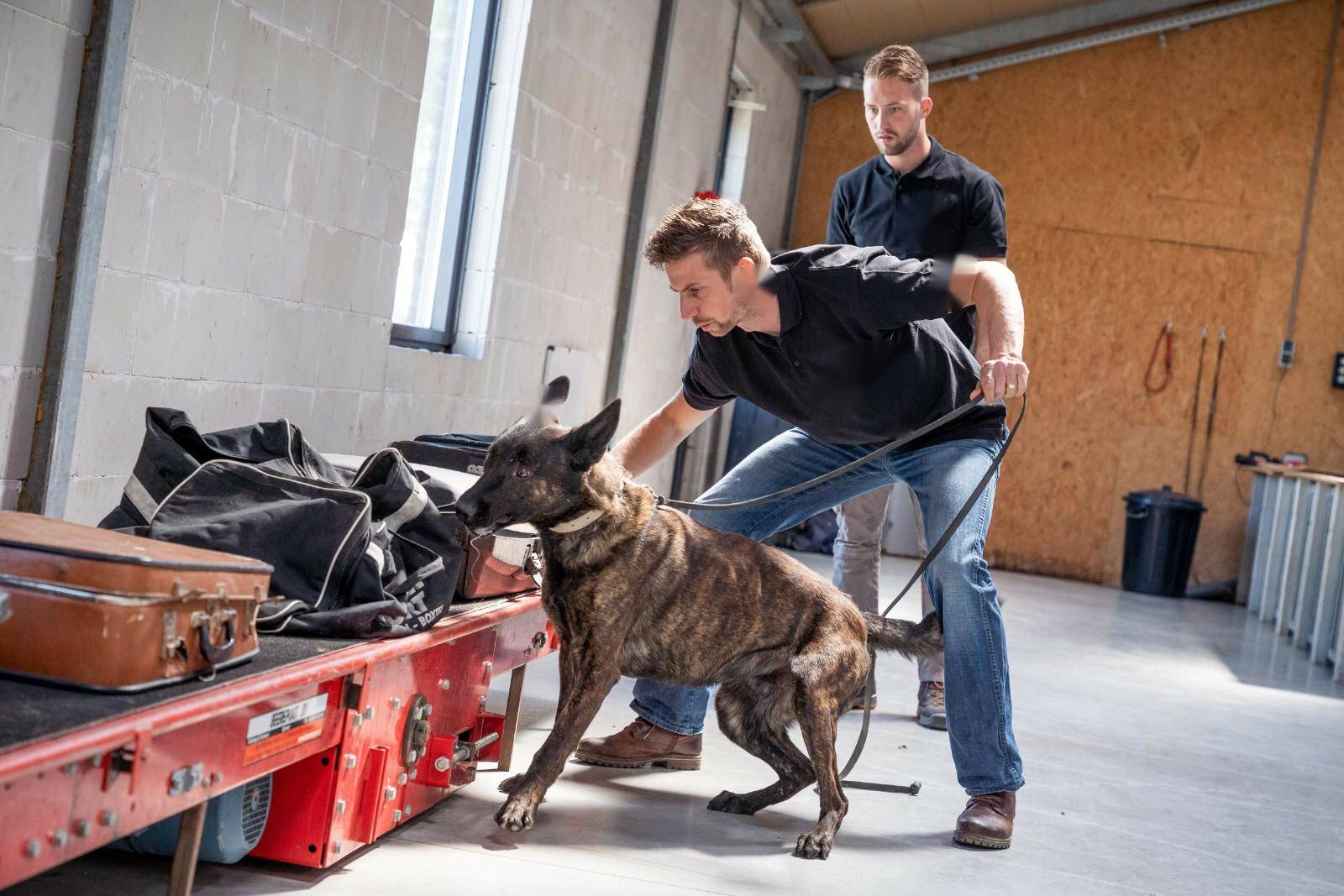 Different breeds of airport detection dogs
All kinds of dogs can be used as sniffer or detection dogs in airports. Most common are the following breeds : 
Shepherds
Labradors
Springer Spaniels
Beagles
K10 Workingdogs however can supply any breed you require. Just contact us for detailed information. 
The Best Detector Dogs
At K10 Working Dogs we train and sell all kinds of detector dogs. Our customers are police forces, military forces but also security agencies that are hired to secure the airports with dogs.
The most common requests:
Explosive detection dog
Narcotic detection dog
Money detection dog
Tobacco detection dog
Level of Training
We offer three different variations of dogs :
Green dogs
Semi trained dogs
Fully trained dogs
Green dogs have the capabilities to become excellent detector dogs. They all have a high drive and are willing to work for the handler. They can be trained by our customers. All the green dogs we offer for sale are about 13 and 18 months old. Extensive evaluation to aport toys – inside and outside – is done by our trainers and there for we can keep records of our dogs
Pre trained dogs or semi trained detection dogs are used to search objects. They do not have been used to a certain smell – like drugs or explosives or other substances. These dogs have of course also a very high ball or kong drive and easily trainable on odours.
Fully trained detection dogs have been staying longer with us. The have followed an intensive training program and can be put working immediately after arrival at our customers. Training and progress records are kept carefully.
Medical + Transport
All our dogs are in between 8 and 24 months old and have been x-rayed on hips and elbows after arrival in our kennels.
They all have international passports that hold vaccination records.
After you selected your dogs, we can assist you with the transportation of the dogs. 
We have got connections with major animal transportation companies in Holland, Belgium and Germany.
Handler training
K10 Working dogs can also provide handler training regarding detection dogs. We offer courses at our facilities in Holland and make sure that your trainers or handlers are trained the right way ! Please feel free to ask us !
Ask for the possibilities !
Please feel free to ask a quotation on airport surveillance dogs we have available. You will receive a quotation as soon as possible. Please use our contact form !